Custom Profound Chinese & Japanese Calligraphy Wall Scroll
We have many options to create artwork with Profound characters on a wall scroll or portrait.
If you want to create a cool Profound Asian character tattoo, you can purchase that on our Chinese and Japanese Tattoo Image Service page and we'll help you select from many forms of ancient Asian symbols that express the idea of profound.
Quick links to words on this page...

miào

myou

묘
This single character can mean a lot of things (a bit ambiguous). The meanings include: clever; wonderful; strange; unusual; superb; excellent; beautiful; mystic; supernatural; profound; mysterious; good; surpassing; fine, lovely, charming; special; outstanding; incomparable.

cí xīn

jishin
This title means, "Compassionate Heart" or "Benevolent Heart." It's used in day-to-day speech to refer to someone who has the traits of benevolence, mercy, and compassion for their fellow humans.

This title is also used in Buddhism with the same profound meaning.

yī yán jiǔ dǐng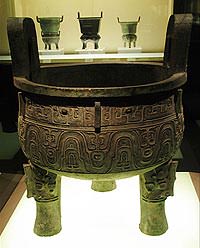 This is an ancient Chinese proverb used in modern times talk of profound or powerful words.

The literal meaning is, "one word [worth] nine [sacred] tripods." The tripod is a highly-prized three-legged (sometimes four-legged) metal pot or kettle of ancient China. They are often made of bronze, and the Emperor would have very large ones gilded in gold. See the image to the right for an example.

jǐ zú yǐ
This is a profound and philosophical way to say "I am enough" in Chinese.

The first character means self or oneself.

The last two characters are a word that means sufficient or enough.

shēn kè

shinkoku / misa

심각
This Chinese word is the form of intense that describes a person who is deep, serious, and a true thinker.

If you find yourself contemplating the world and coming up with profound ideas, this might we the word for you. In some context (especially Korean), it can mean seriousness, gravity, or acuteness.

In Japanese, this can mean "serious problem," or can be a rare given name, Misa. You should not use this if your audience is Japanese.

rù mù sān fēn
These four characters together translate in English to a strong form of "profound" or "written with a forceful hand."

But there is much more to the story...

The deep meaning behind this proverb comes from a man named Wan Xizhi who lived in the third century.

He was a great writer and calligrapher whose writing style influenced generations of other writers and calligraphers.

He once wrote words on a piece of wood to be taken to an engraver.
When the engraver began to carve the characters into the wood, he found that Wang Xizhi's writing had penetrated the wood about 3/8 of an inch.

Thus people believed that his words were so powerful, and so profound this it caused the ink from his brush to penetrate the wood deeply.

The proverb literally means "penetrated wood three fen" (fen is an ancient Chinese measurement a little over to 1/8 of an inch or almost 4mm).

sēng qié

sougya

승가
In Buddhism, this term refers to a community of monks and/or nuns (one of the "Three Jewels"). In general terms, it can simply mean "all followers of the Buddha."

Notes: Though there are not vast numbers of Chinese Hindus, in the Hindu faith, this term means "community together."
The original Sanskrit word is also Romanized as samgha.
The first character means "monk." The second character means Buddha or Shakyamuni.
This is really a transliteration of the original Sanskrit but it uses two very profound Chinese characters related to Buddhism.

Some may pronounce this as "seng qie" or "seng jia" in Mandarin (two possible pronunciations for second character). Note that "qie" would sound a bit like "chee-ah" using typical English pronunciation. Chinese Romanization is not actually designed to match English sounds.
---


Note that when writing this as Kanji, Japanese will tend to write the first character in the form shown to the right. If you select our Japanese master calligrapher, please expect this special Kanji form. However, it should also be noted that this is not a common term in Japanese (except by certain sects of Buddhism or perhaps devout Buddhists in Japan).

shin ken
This Japanese word means intense, serious or earnest. It describes a person who is deep, serious, and a true thinker or dreamer.

Literally, this means "true sword," as compared to a sharpened wooden practice sword blank. It's real, true, and serious.

chá yuán
This is a special title for the tea lover. This kind of means "tea fate" but it's more spiritual and hard to define. Perhaps the tea brought you in to drink it. Perhaps the tea will bring you and another tea-lover together. Perhaps you were already there, and the tea came to you. Perhaps it's the ah-ha moment you will have when drinking the tea.

I've been told not to explain this further, as it will either dilute or confuse the purposefully-ambiguous idea embedded in this enigma.

I happen to be the owner of a piece of calligraphy written by either the son or nephew of the last emperor of China, and this is the title he wrote. It was given to me at a Beijing tea house in 2001. This is where I learned to love tea after literally spending weeks tasting and studying everything I could about Chinese tea. I did not understand the significance of the authorship, or meaning of the title at all. Some 10 years later, I realized the gift was so profound and had such providence. Only now I realize the value of a gift that it is too late to give proper thanks for. It was also years later that I ended up in this business, and could have the artwork properly mounted as a wall scroll. It has been borrowed for many exhibitions and shows, and always amazes native Chinese and Taiwanese who read the signature. This piece of calligraphy which I once thought just a bit of ink on a thin and wrinkled piece of paper is now one of my most valued possessions. And by fate, it has taught me to be more thankful of seemingly simple gifts.

níng jìng zhì yuǎn
This is an ancient Chinese idiom which means "tranquility yields transcendence."

This suggests pursuing a quiet life of profound study.

The first two characters mean tranquility. The last two characters mean "go far" which suggests achieving much in your life or expanding beyond normal limits. The direct translation would read something like, "[With] tranquility [in your life, you'll] go far."

Compare this to the English idiom: Still waters run deep.

xíng wàn lǐ lù shèng dú wàn juǎn shū
This translates a few ways:
To travel ten-thousand miles beats reading ten-thousand books.
Better to travel ten thousand li than to read ten thousand books. (a "li" is an ancient Chinese mile)
Travelling thousands of miles is better than reading thousands of books.

No matter how you slice it, this Chinese proverb is claiming that experience is more profound and meaningful than what you can get from a book. Go do it! Don't just read about it.

yōu xuán

yū gen

유현
This is the Chinese, Japanese Kanji, and old Korean Hanja word meaning, dim, deep, mysterious, subtle grace, hidden beauty, mysterious profundity, elegant simplicity, or subtle and profound.

This can also be the Japanese personal name Yuugen or Yugen.
The following table is only helpful for those studying Chinese (or Japanese), and perhaps helps search engines to find this page when someone enters Romanized Chinese or Japanese
In some entries above you will see that characters have different versions above and below a line. In these cases, the characters above the line are Traditional Chinese, while the ones below are Simplified Chinese.