Buy a "Five Elements" Wall Scroll Here!
The Five Elements in Chinese characters or Japanese Kanji
The five elements are earth (soil), water, gold/metal, wood, and fire. In Chinese astrology these five elements go through a five-year-cycle. Each year has a certain element assigned to it.
If you want to really get into it, there are also twelve animals in the Chinese zodiac which have a 12 year cycle.
If you are looking for more info on the Five Elements (Wu Xing) try this... Wikipedia: Five Elements (Wu Xing).
---
---

金木水火土 is a list of the Chinese characters for the five elements in a comfortable order (meaning that they "feel right" to a Chinese person who views this arrangement).

The order is metal, wood, water, fire, and earth.

Note that sometimes the metal element is translated as gold. And earth refers to soil versus the whole planet earth.

地水火風空 is the specifically-Japanese version of the five elements.

This is a little different than the ancient or original Chinese version.

The elements are written in this order:
1. Earth / Terra / Ground
2. Water
3. Fire
4. Wind / Air
5. Sky / Emptiness / Void / Ether

Note: This set of Kanji can also be romanized as "ji sui ka fuu kuu," "jisuikafuukuu," or "jisuikafuku."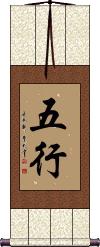 五行 is the title of the five elements: wood, fire, water, earth, and metal.

The first character means five, and the second character is simply element(s).

According to ancient Chinese science, all matter in the world is comprised of these elements. One idea presented with the five elements is that when energy is added, the matter is believed to expand. When energy is removed, matter contracts. Oddly, this concept is not far from Einstein's theories and modern science. Just a few thousand years before Einstein.
---
See Also: Wood | Fire | Water | Earth | Metal | Five Elements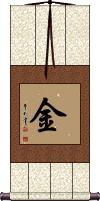 金 is the symbol for metal (often means gold or money) in Chinese, Korean and Japanese.

In an interesting twist, in Japanese, this Kanji can also mean "Friday." I guess Friday is "the golden day" in Japan.
Wood
(One of the five elements)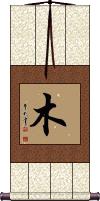 木 is the symbol for wood in Japanese, Korean and Chinese.

This can sometimes mean "tree" depending on context. In fact, the character comes from a pictogram that is supposed to resemble a tree.
Water
(One of the five elements)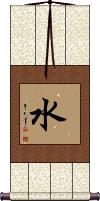 水 is the symbol for water in Chinese, Japanese Kanji, and old Korean Hanja.
Fire
(One of the five elements)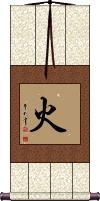 火 is the symbol for fire, flame, or blaze in Chinese, Korean and Japanese.
---
See Also: Five Elements
Earth
(One of the five elements)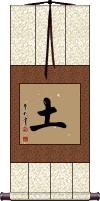 土 is earth, soil, ground, or Terra.
---
See Also: Five Elements | Chinese Zodiac
Five Elements Tai Chi Fist

五行太極拳 is a certain school or style of Tai Chi (Taiji).

The characters literally mean "Five Elements Tai Chi Fist."

Notes:
In Taiwan, it would be Romanized as "Wu Hsing Tai Chi Chuan" - see the standard Mandarin method above in the gray box (used in mainland China and the official Romanization used by the Library of Congress).

The last three characters are sometimes translated as "Grand Ultimate Fist," so the whole thing can be "Five Elements Grand Ultimate Fist" if you wish.

I have not confirmed the use of this title in Korean but if it is used, it's probably only by martial arts enthusiasts. The pronunciation is correct, as shown above for Korean.
Four Elements
Buddhist Term

地水火風 is a Buddhist term that means "earth, water, fire, wind."

This is often just referred to as "the four elements." There is a more common title (the five elements) that adds wood to the mix. These four elements are used in some sects of Japanese Buddhism (not so much in Chinese).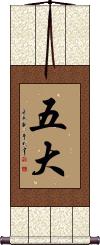 五大 is the Japanese title for the five elements.

In Japan, the five elements differ slightly from the original Chinese. Therefore, in Japanese philosophy, you have earth, water, fire, wind, and void (space).

The meaning of the first character is 5, but the second character means great or large. Some translate this as the five majors. 大 is only understood as "elements" when you have 五 in front of it.

In Buddhism, this can be short for 五大明王, or the five great and wise kings.
The following table may be helpful for those studying Chinese or Japanese...
Title
Characters
Romaji

(Romanized Japanese)

Various forms of Romanized Chinese
Five Elements
金木水火土
jīn mù shuǐ huǒ tǔ

---

jin1 mu4 shui3 huo3 tu3

---

jin mu shui huo tu

---

jinmushuihuotu
chin mu shui huo t`u

---

chinmushuihuotu

---

chin mu shui huo tu
Five Elements
地水火風空

---

地水火风空
chi sui ka fuu kuu

---

chisuikafuukuu

---

chi sui ka fu ku
Five Elements
五行
gogyou / gogyo
wǔ xíng / wu3 xing2 / wu xing / wuxing
wu hsing / wuhsing
Gold
Metal
金
kin
jīn / jin1 / jin
chin
Wood
木
ki
mù / mu4 / mu
Water
水
mizu / sui
shuǐ / shui3 / shui
Fire
火
hi
huǒ / huo3 / huo
Earth
土
tsuchi
tǔ / tu3 / tu
t`u / tu
Five Elements Tai Chi Fist
五行太極拳

---

五行太极拳
go gyou tai kyoku ken

---

gogyoutaikyokuken

---

go gyo tai kyoku ken
wǔ xíng tài jí quán

---

wu3 xing2 tai4 ji2 quan2

---

wu xing tai ji quan

---

wuxingtaijiquan
wu hsing t`ai chi ch`üan

---

wuhsingtaichichüan

---

wu hsing tai chi chüan
Four Elements
地水火風

---

地水火风
chisuikafuu

---

chisuikafu
dì shuǐ huǒ fēng

---

di4 shui3 huo3 feng1

---

di shui huo feng

---

dishuihuofeng
ti shui huo feng

---

tishuihuofeng
Godai
Five Elements
五大
godai
wǔ dà / wu3 da4 / wu da / wuda
wu ta / wuta
In some entries above you will see that characters have different versions above and below a line.
In these cases, the characters above the line are Traditional Chinese, while the ones below are Simplified Chinese.
All of our calligraphy wall scrolls are handmade.
When the calligrapher finishes creating your artwork, it is taken to my art mounting workshop in Beijing where a wall scroll is made by hand from a combination of silk, rice paper, and wood.
After we create your wall scroll, it takes at least two weeks for air mail delivery from Beijing to you.
Allow a few weeks for delivery. Rush service speeds it up by a week or two for $10!
When you select your calligraphy, you'll be taken to another page where you can choose various custom options.