Fast Kanji in Chinese / Japanese...
Buy a Fast Kanji calligraphy wall scroll here!
Personalize your custom "Fast Kanji" project by clicking the button next to your favorite "Fast Kanji" title below...
See also: Selections of just Japanese Kanji Calligraphy
---
---
Fast
Fast, as in a race car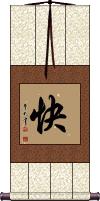 快 is the single character for "fast" in Chinese.

This applies to race cars, airplanes, rockets, etc.

This can also mean rapid, quick, speed, rate, soon, to make haste, clever, or sharp (of knives or wits). In some context it can mean cheerful or happy.

This is not a common choice for a wall scroll but if you're a speed freak, this may work for you.

Note: In Japanese, this usually has a meaning of pleasure, cheerful, delight, enjoyment, or the female given name Yoshi.

高速 means "high speed" or "in high gear" in Chinese and Japanese Kanji.

In old Korean Hanja, it also means "high speed" but can also be a nickname for "rapid transit."

高速 is the best selection if you want to say "speed" in regard to your race car, race boat, or lifestyle. You need this word, which literally means "high speed," as the Asian word for "speed" alone does not suggest whether you mean fast or slow.
Furinkazan
military strategy

風林火山 is the battle strategy and proverb of Japanese feudal lord Takeda Shingen (1521-1573 AD).

This came from the Art of War by Chinese strategist and tactician Sun Tzu (Sunzi).

You can think of this as an abbreviation to remind officers and troops how to conduct battle.

風林火山 is a word list: Wind, Forest, Fire, Mountain.

The more expanded meaning is supposed to be...

"Swift as the wind, quiet as the forest, fierce as fire, and immovable as a mountain"

"As fast as the wind, as quiet as the forest, as daring as fire, and immovable as the mountain"

"Move as swift as the wind, stay as silent as a forest, attack as fierce as fire, undefeatable defense like a mountain"

"Move swiftly like the wind, stay silent like the forest, attack fiercely like fire, take a tactical position on the mountain"
---
See Also: Art of War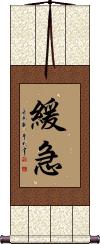 緩急 is often used as a Korean martial arts term, "speed control." It's also one of the 8 key concepts of Tang Soo Do.

In other contexts, this can mean priority, pace, tempo, or slow and fast.
Bolt of Lightning / Lightning Attack
Tokkan

基督 is how to write "Christ" in Chinese characters, Korean Hanja, and Japanese Kanji.

This is the word used in the Chinese Union Bible (the only readily-available translation of the Bible into Chinese that I know of - published about 100 years ago). For Chinese Christians, this is the most common way to refer to Jesus Christ.

This is also the way that "Christ" is written in Japanese. But since the Japanese language is very flexible about the sounds that can be assigned to various Kanji, these characters have been assigned a pronunciation that sounds a lot like "Christ" or actually closer to the original "Christos." In Japanese (if you don't know how the Romaji shown above in the gray box works), it sounds like "key ree sue toe" using English words/sounds. Say those four words fast, and you'll get it.
It should be noted that only Japanese Christians will be familiar with this word.

This is best defined, read, and understood with the characters together, but if you take this word for Christ apart, the first character means "fundamentals" or "foundation." The second character can mean "leader" or "boss."
Art of War: 5 Points of Analysis

道天地將法 is a list of five key points to analyzing your situation from the first chapter of Sun Tzu's Art of War.

This reads like a 5-part military proverb. Sun Tzu says that to sharpen your skills, you must plan. To plan well, you must know your situation. Therefore, you must consider and discuss the following:

1. Philosophy and Politics: Make sure your way or your policy is agreeable among all of your troops (and the citizens of your kingdom as well). For when your soldiers believe in you and your way, they will follow you to their deaths without hesitation and will not question your orders.

2. Heaven/Sky: Consider climate / weather. This can also mean considering whether God is smiling upon you. In the modern military, this could be waiting for clear skies so that you can have air support for an amphibious landing.

3. Ground/Earth: Consider the terrain in which the battle will take place. This includes analyzing defensible positions, and exit routes, while using varying elevations to your advantage. When you plan an ambush, you must know your terrain and the best location from which to stage that ambush. This knowledge will also help you avoid being ambushed, as you will know where the likely places in which to expect an ambush from your enemy.

4. Leadership: This applies to you as the general and your lieutenants. A leader should be smart and be able to develop good strategies. Leaders should keep their word, and if they break a promise, they should punish themselves as harshly as they would punish subordinates. Leaders should be benevolent to their troops, with almost a fatherly love for them. Leaders must have the ability to make brave and fast decisions. Leaders must have steadfast principles.

5. [Military] Methods: This can also mean laws, rules, principles, models, or systems. You must have an efficient organization in place to manage both your troops and supplies. In the modern military, this would be a combination of how your unit is organized and your SOP (Standard Operating Procedure).
---
Notes: This is a simplistic translation and explanation. Much more is suggested in the actual text of the Art of War (Bing Fa). It would take a lot of study to master all of these aspects. In fact, these five characters can be compared to the modern military acronyms such as BAMCIS or SMEAC.

CJK notes: I have included the Japanese and Korean pronunciations but in Chinese, Korean and Japanese, this does not make a typical phrase (with subject, verb, and object) it is a list that only someone familiar with Sun Tzu's writings would understand.
This in-stock artwork might be what you are looking for, and ships right away...
The following table may be helpful for those studying Chinese or Japanese...
Title
Characters
Romaji

(Romanized Japanese)

Various forms of Romanized Chinese
Fast
快
yoshi
kuài / kuai4 / kuai
k`uai / kuai
Speed
高速
kousoku / kosoku
gāo sù / gao1 su4 / gao su / gaosu
kao su / kaosu
Furinkazan
風林火山

---

风林火山
fuu rin ka zan

---

fuurinkazan

---

fu rin ka zan
fēng lín huǒ shān

---

feng1 lin2 huo3 shan1

---

feng lin huo shan

---

fenglinhuoshan
Flying Dragon Horse
飛龍馬

---

飞龙马
hi ryuu me / hiryuume / hi ryu me
fēi lóng mǎ

---

fei1 long2 ma3

---

fei long ma

---

feilongma
fei lung ma

---

feilungma
Speed Control
緩急

---

缓急
kankyuu / kankyu
huǎn jí / huan3 ji2 / huan ji / huanji
huan chi / huanchi
Bolt of Lightning
Lightning Attack
突貫
tokkan / tokan
Christ
基督
kirisuto
jī dū / ji1 du1 / ji du / jidu
chi tu / chitu
Art of War: 5 Points of Analysis
道天地將法

---

道天地将法
dou ten chi shou hou

---

doutenchishouhou

---

do ten chi sho ho
dào tiān dì jiàng fǎ

---

dao4 tian1 di4 jiang4 fa3

---

dao tian di jiang fa

---

daotiandijiangfa
tao t`ien ti chiang fa

---

taotientichiangfa

---

tao tien ti chiang fa
In some entries above you will see that characters have different versions above and below a line.
In these cases, the characters above the line are Traditional Chinese, while the ones below are Simplified Chinese.
Many custom options...




And formats...



Successful Chinese Character and Japanese Kanji calligraphy searches within the last few hours...
All of our calligraphy wall scrolls are handmade.
When the calligrapher finishes creating your artwork, it is taken to my art mounting workshop in Beijing where a wall scroll is made by hand from a combination of silk, rice paper, and wood.
After we create your wall scroll, it takes at least two weeks for air mail delivery from Beijing to you.
Allow a few weeks for delivery. Rush service speeds it up by a week or two for $10!
When you select your calligraphy, you'll be taken to another page where you can choose various custom options.
Check out my lists of Japanese Kanji Calligraphy Wall Scrolls and Old Korean Hanja Calligraphy Wall Scrolls.
Some people may refer to this entry as Fast Kanji Kanji, Fast Kanji Characters, Fast Kanji in Mandarin Chinese, Fast Kanji Characters, Fast Kanji in Chinese Writing, Fast Kanji in Japanese Writing, Fast Kanji in Asian Writing, Fast Kanji Ideograms, Chinese Fast Kanji symbols, Fast Kanji Hieroglyphics, Fast Kanji Glyphs, Fast Kanji in Chinese Letters, Fast Kanji Hanzi, Fast Kanji in Japanese Kanji, Fast Kanji Pictograms, Fast Kanji in the Chinese Written-Language, or Fast Kanji in the Japanese Written-Language.
2 people have searched for Fast Kanji in Chinese or Japanese in the past year.
Fast Kanji was last searched for by someone else on Jan 28th, 2023