Empty in Chinese / Japanese...
Buy an Empty calligraphy wall scroll here!
Personalize your custom "Empty" project by clicking the button next to your favorite "Empty" title below...
---
---
Nothingness / Empty / Void

虛空 means empty space, empty sky, or void.

In the Buddhist context, it can mean "emptiness of the material world." This can also be used as an adjective to modify other words with a meaning of unreal or insubstantial.
Kempo Karate / Law of the Fist Empty Hand

空手拳法 is the Kanji title for Kempo Karate.

The first two characters mean "karate" - technically they express "empty hand."

The last two express "fist law" which is Romanized from Japanese as "Kenpo" or "Kempo."

That "empty hand" translation can be understood better when you grasp the idea that karate is a martial art without weapons (other than the weapons organic to your body, such as your foot, hand, fist, etc). When you practice karate, you do so with empty hands (no weapons).

Note: There is also an antiquated way to write karate. It has the same pronunciation but a different first character which means "Tang" as in the Tang Dynasty. Some dojos use that form - let us know if you need that alternate form, and we'll add it.

The literal meaning of 空手道 is "empty hand method" or "empty hand way."

Credit is given that karate started in China but migrated and became refined and vastly popular in Japan.

Karate is a martial art that uses no blades or weapons other than the "natural weapons" God gave to humans (fists and feet). The last character somehow became optional, but the meaning of that character is "method" or "the way" as in Taoism / Daoism.

Karate-Do reached Korea, where it is known as 공수도 which can be romanized as "Kong Soo Do" or "Gong Su Do."

団結空手道 is the title for Danketsu Karate-Do, a dojo located in Stroudsburg, PA.

団結 (danketsu) means union, unity, or combination.

空手道 (karate-do) means "empty hand way."


---
If you need you martial arts school/dojo/academy added to my database, just give me the info (actual Chinese/Japanese text if you have it).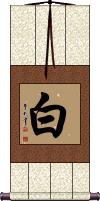 A lot of people search our website for "white." I am not sure of the purpose unless your family name is white.

白 is the universal character for white in Chinese, Japanese Kanji, and old Korean Hanja.

In a certain context, outside of the white definition, it can mean snowy, empty, blank, bright, clear, plain, pure, or innocent. In Korean, this can be a family name romanized as Paek or Baeg.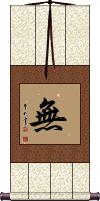 無 is the simple way to express "nothing."

However, this single character leaves a bit of mystery as to what you might really mean if you hang it as a wall scroll. I'm not saying that's a bad thing; as you can decide what it means to you, and you won't be wrong if you stay within the general context.

More info: 無 is usually used as a suffix or prefix for Chinese and Japanese words (also old Korean). It can be compared to "un-" or "-less" in English. It can also mean "not to have," no, none, not, "to lack," or nothingness.
True Emptiness Yields Transcendent Existence

According to Soothill 眞空妙有 means:
The true void is the mysteriously existing, truly void, or immaterial, yet transcendentally existing.

眞空妙有 is the state of being nonexistent after removing all errant worldly influences. 眞空妙有 is achieved when all forms of existence are seen for their real nature.
Sky / Ether / Void / Emptiness / Unreality
(Used in Japanese version of five elements)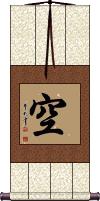 空 is a single character that means empty, void, hollow, vacant, vacuum, blank, nonexistent, vacuity, voidness, emptiness, non-existence, immateriality, unreality, the false or illusory nature of all existence, and being unreal.

In the Buddhist context, this relates to the doctrine that all phenomena and the ego have no reality but are composed of a certain number of skandhas or elements, which disintegrate. The void, the sky, space. The universal, the absolute, complete abstraction without relativity. The doctrine further explains that all things are compounds, or unstable organisms, possessing no self-essence, i.e. are dependent, or caused, come into existence only to perish. The underlying reality, the principle of eternal relativity, or non-infinity, i.e. śūnya, permeates all phenomena making possible their evolution.

From Sanskrit and/or Pali, this is the translation to Chinese and Japanese of the title śūnya or śūnyatā.

In Japanese, when pronounced as "ron" (sounds like "roan") this can be a given name. It should be noted that this Kanji has about 5 different possible pronunciations in Japanese: kuu, kara, sora, ron, and uro. 空 is also an element in the Japanese version of the five elements.
This in-stock artwork might be what you are looking for, and ships right away...
These search terms might be related to Empty:
Beautiful Clear Sky

Clear Blue Sky

Drain the Pond to Get All the Fish

Sunny / Clear and Bright


The following table may be helpful for those studying Chinese or Japanese...
Title
Characters
Romaji

(Romanized Japanese)

Various forms of Romanized Chinese
Nothingness
Empty
Void
虛空

---

虚空
kokuu / koku
xū kōng / xu1 kong1 / xu kong / xukong
hsü k`ung / hsükung / hsü kung
Kempo Karate
Law of the Fist Empty Hand
空手拳法
kara te ken pou

---

karatekenpou

---

kara te ken po
kōng shǒu quán fǎ

---

kong1 shou3 quan2 fa3

---

kong shou quan fa

---

kongshouquanfa
k`ung shou ch`üan fa

---

kungshouchüanfa

---

kung shou chüan fa
Karate-Do
空手道
kara te dou

---

karatedou

---

kara te do
kōng shǒu dào

---

kong1 shou3 dao4

---

kong shou dao

---

kongshoudao
k`ung shou tao

---

kungshoutao

---

kung shou tao
Danketsu Karate-Do
団結空手道
dan ketsu kara te dou

---

danketsukaratedou

---

dan ketsu kara te do
White
白
shiro
bái / bai2 / bai
pai
Nothing
Nothingness
無

---

无
mu
wú / wu2 / wu
True Emptiness Yields Transcendent Existence
眞空妙有
shin kuu myou u

---

shinkuumyouu

---

shin ku myo u
zhēn kōng miào yǒu

---

zhen1 kong1 miao4 you3

---

zhen kong miao you

---

zhenkongmiaoyou
chen k`ung miao yu

---

chenkungmiaoyu

---

chen kung miao yu
Sky
Ether
Void
Emptiness
Unreality
空
kuu / kara / sora / ron

---

ku / kara / sora / ron
kōng / kong1 / kong
k`ung / kung
In some entries above you will see that characters have different versions above and below a line.
In these cases, the characters above the line are Traditional Chinese, while the ones below are Simplified Chinese.
Many custom options...




And formats...



Successful Chinese Character and Japanese Kanji calligraphy searches within the last few hours...
All of our calligraphy wall scrolls are handmade.
When the calligrapher finishes creating your artwork, it is taken to my art mounting workshop in Beijing where a wall scroll is made by hand from a combination of silk, rice paper, and wood.
After we create your wall scroll, it takes at least two weeks for air mail delivery from Beijing to you.
Allow a few weeks for delivery. Rush service speeds it up by a week or two for $10!
When you select your calligraphy, you'll be taken to another page where you can choose various custom options.
Check out my lists of Japanese Kanji Calligraphy Wall Scrolls and Old Korean Hanja Calligraphy Wall Scrolls.
Some people may refer to this entry as Empty Kanji, Empty Characters, Empty in Mandarin Chinese, Empty Characters, Empty in Chinese Writing, Empty in Japanese Writing, Empty in Asian Writing, Empty Ideograms, Chinese Empty symbols, Empty Hieroglyphics, Empty Glyphs, Empty in Chinese Letters, Empty Hanzi, Empty in Japanese Kanji, Empty Pictograms, Empty in the Chinese Written-Language, or Empty in the Japanese Written-Language.
36 people have searched for Empty in Chinese or Japanese in the past year.
Empty was last searched for by someone else on Jan 18th, 2023